Tried and true gift ideas for the boys in your life. For Christmas, Chanukah, birthday, your-kid-is-awesome Day – whatev.
I'm pretty sure GIRLS will appreciate all these toys, too. But I'm a boy mom and "toys for boys" rhymes.
My boys love all of the items featured here. (They also HEART IN SUCH BIG LETTERS legos, blocks, matchbox cars, dinosaurs, trains, and sticks-turned-swords.)
These toys are appropriate for kiddos aged 18 months to 6 years. To encourage creative play and fun!
For your convenience, I've included affiliate links. Read my Disclaimer to learn more.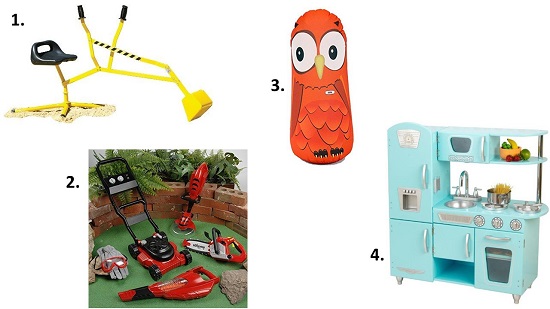 1. BIG DIG RIDE-ON WORKING CRANE
For your little boy who dreams of construction trucks and longs to have his very own working crane or excavator, the Big Dig Ride-on Working Crane is perfect. For indoor or outdoor use. Let him loose in the sandbox or your gravel driveway or the mulch in your flower bed.
2. LAWN AND GARDEN POWER TOOLS
What little boy doesn't need a leaf blower, lawn mower and chain saw? You may need to quarantine the dog in another room in the house when your kiddo is on a rampage with the weed whacker.
3. INFLATABLE PUNCHING BAG
When your little guy is in the mood to punch something. And you'd prefer it's not his little sister. This inflatable punching bag does the trick.
To set it up, you'll need some sand (or water – but who wants to deal with a flood if little Bobby decides to punch it with scissors?) Check out this amazing video of my hubby in action filling this thing up:
4. KITCHEN PLAY SET
So your boy can learn to "cook like dad" – if you're a mom like me who gets lost in the kitchen. The kitchen play set goes great in your actual kitchen or in the playroom with all the other "let's play house" goodies.
TOYS FOR BOYS – ON PINTEREST


Follow my Toys for Boys board for more featured toys your kiddos will love.

Share your own favorite toys for boys below or on Facebook at MothersRest.
Photo credit, featured image: Photo by Caleb Woods on Unsplash.com