You can get your Mother-in-Law another potholder this year for the Holidays. OR you can help her mental health (which might, in turn, help your mental health). By gifting her great sleep. Oh, hell, forget your Mother-in-Law and just treat yourself to all these goodies.
Like lavender – the lovely essential oil that calms the brain. Just add a drop to your pre-bed bath or sprinkle a few drops on your pillow every night to coax yourself to sleep.
Check out these sleep aids to create the right environment to get your sleep on. And give the gift of great sleep to everyone you know with these super tools.
For your convenience, I've included affiliate links. Read my Disclaimer to learn more.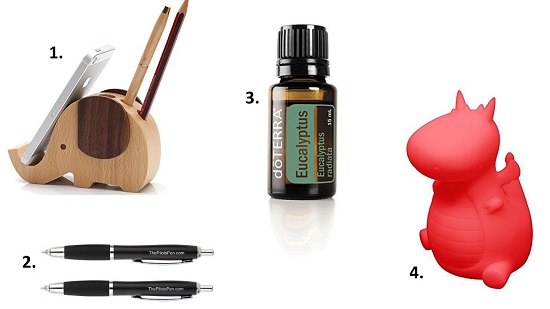 1. STYLISH SMART PHONE STORAGE
Just try and resist this stylish smart phone storage solution. You guys, it's an ELEPHANT – can it be any cuter? And more practical?
It's the right place to park your cell phone at night. Just make sure you display this cuteness in the kitchen or family room or basement – anywhere but the bedroom. Because your phone likes to give off blue light, and blue light disrupts sleep. Plus, do you really need to answer that text from the office at 3am?
2. NIGHT WRITER FLASHLIGHT PEN
Capture your dreams in the moment with the Night Writer Flashlight Pen. Or grab it in the middle of the night to write down those worries keeping you up. Or jot down notes for your gratitude journal to conjure happy thoughts to bring on the good sleep vibes.
And the flashlight is super handy. So you can take note without waking up anyone else.
3. EUCALYPTUS OIL
Add Eucalyptus to the list of essential oils you need in your life. Especially if you've got a snorer snoozing nearby.
To nip snoring in the bud FAST!, mix 1 drop of Eucalyptus oil (I love doTERRA) and 5 drops of extra virgin olive oil (from the grocery store). Then rub a dab at the opening of each nostril. You'll both be amazed.
4. DRAGON LED NIGHT LIGHT
Is this Dragon Night Light not the most adorable thing EVER? Great for baby's nursery or big sister's room. Or your tough-guy teen who's into dungeons and dragons, yet still scared of the dark.
This night light gives off ambient red light. Because, it's worth repeating: blue light sucks. Here's a little science about red light at night. And you can feel extra good about this magic dragon powered with an energy-saving LED bulb.
SLEEP – ON PINTEREST


For more ideas on sleep aids and tools you and your loved one's need, check out my board, The Gift of Sleep.

And for sleep tips and articles to learn more about how to create the optimal sleep environment, check out my Sleep Tips board.

Share your own favorite sleep aids below or on Facebook at MothersRest.
Photo credit, featured image: Photo by Couleur on Pixabay.com