Ah, the blessed childhood tradition of wetting the bed.
I'm pretty sure I wet the bed til I was, like, 5, so the idea of night-training my kids sounds like capturing a unicorn or something. I do have friends whose kids at the uncanny age of 2 decided one night that they were just done with diapers. Ha ha ha! To be so lucky.
For the rest of us mere mortals, here's how to minimize the torture when you're called in to deal with a little midnight sheet-wrestling.
For your convenience, I've included affiliate links. Read my Disclaimer to learn more.
For crib-bound tikes
You NEED these snap-on, Summer Infant Ultimate Crib sheets.
You can buy them on Amazon if you want (there's even an organic version available if that's your jam). Or you can look for them at a consignment sale (that's how I got mine). Mooching off your neighbor is another option (all hail the moms in my life who pass baby goodies my way!) Your choice, just get some. Preferably 3 or 4 of them.
Stack them, plastic side down, one on top of the other in the crib.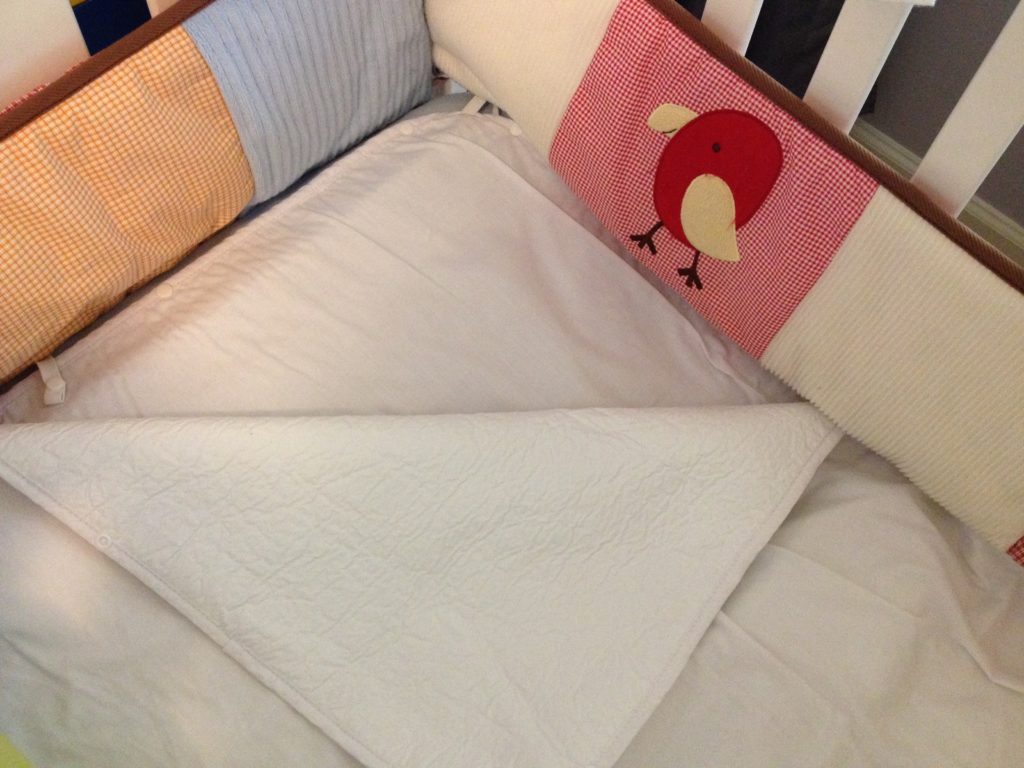 Seriously, these are the only sheets you need. But you can see from my picture below (yes, I have a bumper in my kid's crib) that you can still do the cute crib-sheet-on-mattress look to pull together the theme for your nursery if you want.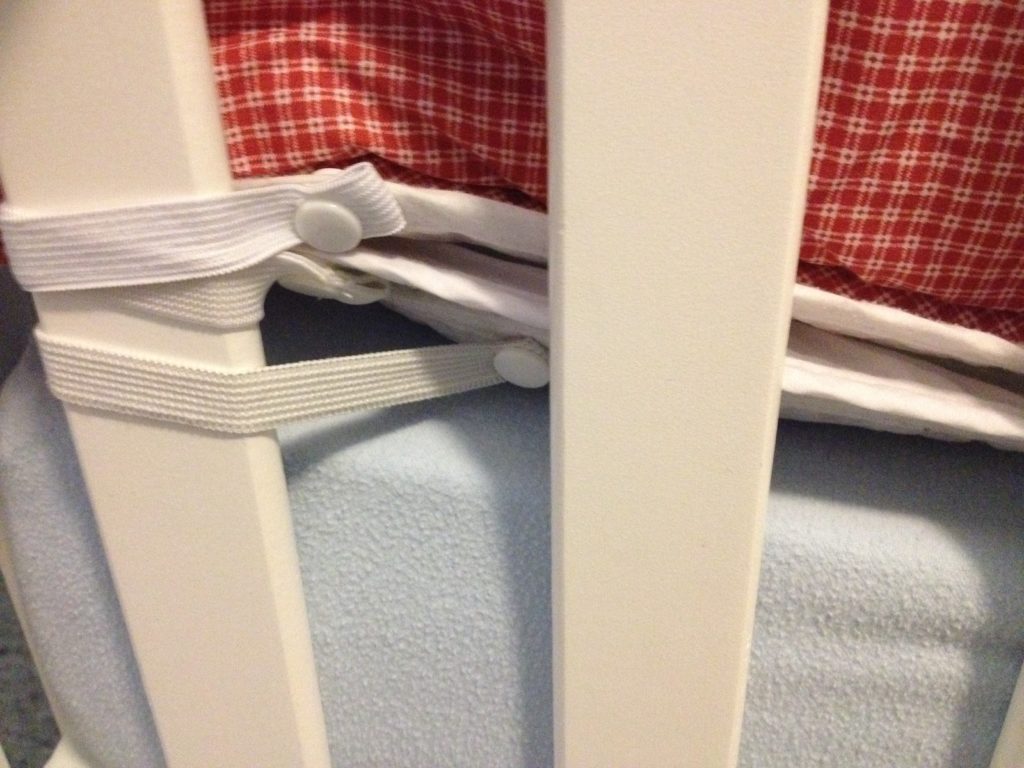 The deal is that when baby wakes in the middle of the night flipping out because their diaper leaked, you aren't stuck wrestling a screaming child, mattress, mattress pad, and fitted sheet (plus changing the baby's pajamas and diaper). You literally can concentrate on baby. So you can get your own sleep on as soon as possible.
Here's your game plan. Pick up baby. Change clothes and diaper. Give clean baby a hug. Hold baby in one hand on hip. Reach into crib and unsnap the top sheet with free hand. Do whatever it takes to get baby back to sleep. Toss soiled sheet into hamper. Score! Mommy win!
I recommend practicing your one-handed, unsnapping technique so you won't panic and drop baby in the moment. You can even have a little fun with this. Time yourself during your practice sessions. Race against your best time. Ask older children to cheer you on. Fun for the whole family!
For older, uncaged kids
The no-sheet-wrestling challenge gets trickier. The following items are a must: a large, cloth (reusable) waterproof pad and a large, fleece blanket.
Place the waterproof pad under the fitted sheet in the general area where leakage could occur. (You can buy disposable pads, but I'd rather spend my dollars on mom treats, like anything involving dark chocolate.) Keep the extra pillow and fleece blanket handy. (The fleece blanket is your friend. You can discover 10 ways to use a fleece blanket – in this other post.)
Mommy, I'm wet! When the toddler/big kid alarm goes off, spring into action. Tackle kid to change their clothes (and diaper if needed.) Throw ultra soft, fleece blanket onto bed over area of concern. Switch out pillows and bedspread if needed. Bribe child to go back to sleep. Deal with the problem in the morning.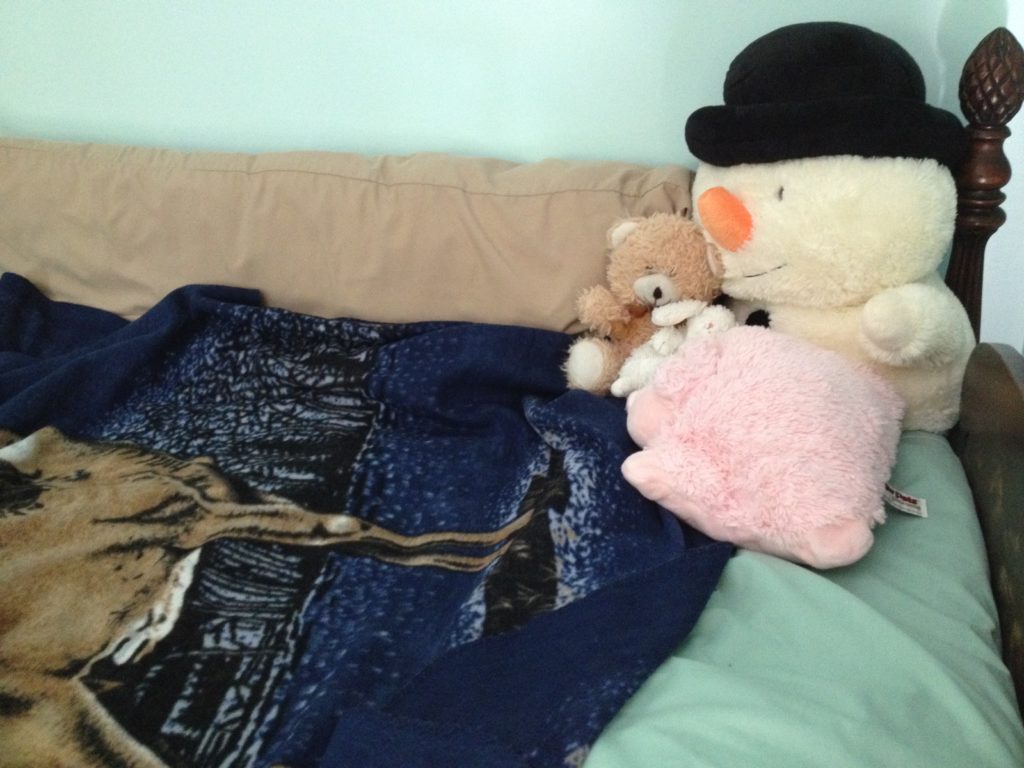 And now you have a choice: sleep or dusting off that lingerie you bought eons ago for your own special evening of sheet wrestling.
Comment below or share your own bed-wetter survival tips on Facebook at MothersRest.

Photo credit, featured image: Picsea from Unsplash.com